By Abimbola Mohammed
SBI Media, the multiple award winning media buying and planning agency, is set to hold the 2nd edition of its annual workshop/training for Nigerians.
The training, slated for November 27th 2021, will feature the brightest and most successful content creators on the Web and social media to lead the sessions at Radisson Blu Hotel in Ikeja, Lagos.
The training, with the theme 'switch2video', is aimed at training young Nigerian content creators on how to leverage mobile tech and current business opportunities in the media sector for self empowerment.
Speaking on the need to launch the workshop the Group CEO of SBI Media, Rotimi Bankole told MARKETING EDGE in an exclusive interview that the training is of paramount essence as unemployment rate keeps increasing in Nigeria, according to National Bureau of Statistic (NBS) and United Nation (UN).
His words: "Numbers from the National Bureau of Statistics and the UN show that unemployment in the country is extremely high. Besides, the global pandemic has resulted in staggering job losses and reduction in revenue for millions of Nigerian youths. Meanwhile, mobile phone penetration and date usage are very high. So, how can we help many youths become creators and employ themselves with the tools they already have in their hands? As professionals in the media, creative, and communication sector, this is the answer that perfectly matches our expertise."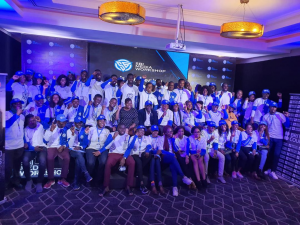 According to the agency boss and ace entrepreneur, it's of importance to provide assistance to people that are in need and help shorten distance between eureka and profitability.
"There is a tectonic shift in the marketing industry that evidently now favours the small creator. This advantage will get bigger with time. But to the uninitiated, it is easy to miss. I would like to provide the assistance to people that I didn't have when I was starting out. I would like to help shorten the distance between eureka and profitability."
He mentioned that the workshop is part one of the firm's CSR: "Let us say it is one of them, we have other ongoing programmes in various areas of life."
He added that Young Nigerians all over the country between the years of 18 and 35 years of age are invited to apply for a place in the periodic workshop through the agency's website.
When asked how long his agency intends to make the last, he said: "We intend to make this as big as we can. A time will come when the SBI Media Workshop will have continental and global reach."
Speaking on the previous participants of the 1st workshop, Mr. Bankole said: "We hope that those who graduate from the workshop will pay it forward; they will go on to empower others, through job creation and knowledge propagation."
The SBI Media workshop is fully funded by SBI Media Group, ably led by Rotimi Bankole, and the company's partners.